Johan Söderström

Biography

Exhibitions

Press
#170 Res Ipsa

kr

12.600

2018
64 x 84 cm
Maleri
Opplag: Original
Sparkel

Verket er rammet inn med ramme av eik.
#170 Res Ipsa er en del av utstillingen Konstellasjoner

Add to cart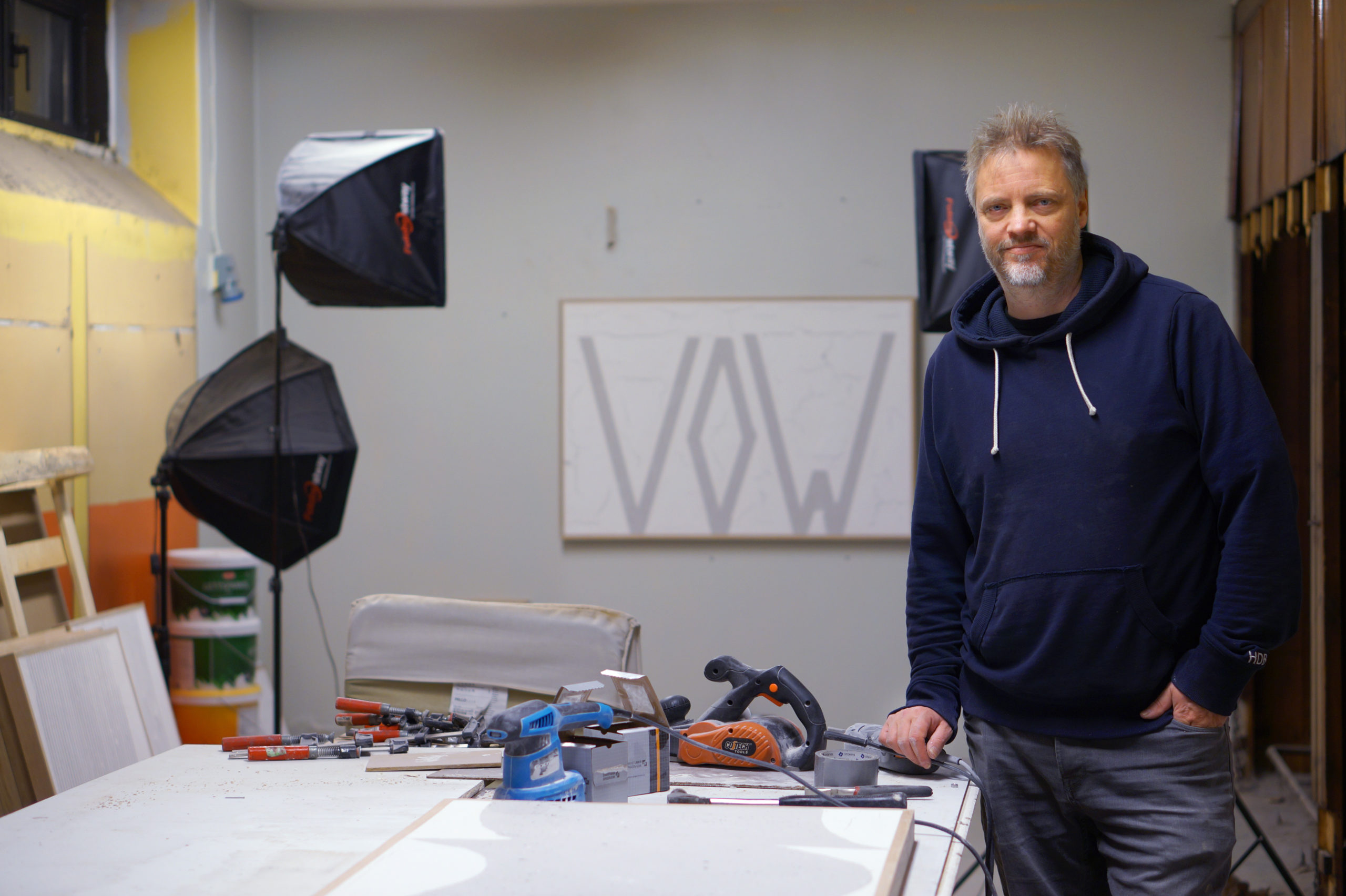 ---
Johan Söderström
Schweigaardsgate 82b, 0656 Oslo
t. 41 355 355
25. november 1969
jodsoderstrom@gmail.com
www.jodsoderstrom.com
Kortfattad projektbeskrivning
Johan Söderström arbetar med processbaserat måleri. Hans arbeten är gjorda av spackel i ramar av ek. Han an- vänder några olika enkla, men  tydligt definierade metoder för att applicera spacklet. Syftet är att begränsa uttrym-me för kognitivt kontrollerade processer, och öppna en möjlighet för att avslöja något okänt.
De tar ofta form av serier eller installationer som sträcker sig ut i rummet. Hans verk utgår från föreställningen om en grundläggande alienation hos människan. Söderström menar att måleri har en unik möjlighet att formulera något runt denna brist, eller längtan, integrerad i vår perception av verklighe-ten. Hans arbeten försöker utforska om denna problemställning kan belysa andra former för social och kulturell främmandegöring. Till exempel privilegier, klasskillnader, rasism och främlingsfientlighet. Kort sagt, olika typer av avstånd mellan människor.
Johan Söderström har tidigare visat arbeten på bl.a Konsthallen Trollhättan, Konsthallen Lokstallet, Konstepide- min, Kristiansands Konsthall, Akershus Kunstsenter, Trondheim Senter for Samtidskunst och Tenthaus Oslo. Han är utbildad vid Kunstakademiet i Trondheim samt bor och arbetar i Oslo.
mvh
Johan Söderström
Education
Lunnevads fhsk Linköping 1989-91
Gerlesborgsskolan Stockholm 1991-93
Stockholms universitet Stockholm 1993-94 Konstvetenskap
Kunstakademiet i Trondheim Trondheim 1995-99
Grants
BKV stipend 2020
Prosjektstøtte 2018, Norsk Kulturråd
BKV arbeidstipend 1år 2017
Utstillingsstøtte 2011, Norsk Kulturråd
Statens Diversestipend 2009
BKH arbeidstipend 1år 2008
Vederlagsfondet 2006
Statens arbeidstipend for yngre kunstnere 2001-04
Vederlagsfondet 2000
Utstyrstøtte 1999
Exhibitions, projects (selected)
Risør Kunstpark, 2020
Sarpsborg Kunstforening, 2020
Aurskog-Høland Kunstforening, 2020
Tegneforbundet "Tekst og tegning" m. K. Opstad, T. Husevaag, E. Bring, S Larsmo, Oslo 2020
Husby Konsthall "Shadow Government", Kista 2020
Lørenskog Kunstforening, 2020
Galleri Rostrum "Fluke" m. L. G. Nilsson+M. Eriksson, Malmö 2020
Sunnfjord Kunstlag "Res Ipsa, Førde 2019
Galleri Rød – Halden Kunstforening "White And Grey", Halden 2019
Modum Kunstforening "Res Ipsa", Vikersund 2019
Nordberg Fort/Vest-Agder Museum "New Works", Lista 2019
Galleri Mjøsvågen – Osterøy Kunstlag "Res Ipsa", Hosanger 2019
Stange Kunstforening "Res Ipsa", Stange 2019
Det Gule Hus "Vow", Asker 2019
Surnadal Billag "Entitled", Surnadal 2018
Konsthallen Trollhättan. "Att Låta Det Obetydliga Tala" Groupshow 2018
Konsthallen Lokstallet, Strömstad. "Att Låta Det Obetydliga Tala" Groupshow 2018
Drøbak Kunstforening "Entitled", Drøbak 2018
Galleri Jessheim, Jessheim Kunstforening, "Always Already", Jessheim 2018
Gjøvik Kunstforening "Entitled", Gjøvik 2018
Levanger Kunstforening "New Works", Levanger 2017
No13 Contemporary "Distal End", Fredrikstad 2017
Tenthaus Oslo "Ingenmannsland" Oslo 2017
Galleri Vanntårnet, Nesodden Kunstforening, "The Master Key", Nesodden 2017
Ulstein kunstlag, New Works Ulsteinsvik 2016
Cyan Galleri, "Intersect" Oslo 2016
Galleri 69, A Crack In Everything Oslo 2016
Kristiandsands Kunsthall, "Afasi" Kristiansand 2012
Galleri Henrik Gerner, "Partners In Crime"Moss 2011
Galleri Henrik Gerner, "Konst i det ofantliga rummet" Moss 2008
Galleri LNM,"Death of a Loyalist soldier", Oslo 2007
Ski Kunstforening, Ski 2007
The White Tube, Oslo 2007
Hamar Kunstforening, Hamar 2005
Trøndelag Kunstnersenter, m. ACME, Trondheim 2004
Rogaland Kunstnersenter, m. ACME, Stavanger 2004
Konstepidemien, m. ACME, Göteborg 2004 Sverige
Buskerud Kunstnersenter,"Å male et hus" m. Tine Aamodt / Ingunn Brevold, Drammen 2003
Akershus Kunstnersenter, m. ACME, Lillestrøm 2002
Tromsø Kunstforening, m. ACME, Tromsø 2001
Galleri Christian Damm "ACME", m T. Aamodt, C. Nissen, A. Simonsson, L-E. Svensson, Oslo 1999
Galleri Kamras, "Snøblind", Borgholm 1998 Sverige
Collective Shows
Høstutstillingen, Kunstnernes Hus, Oslo 2019
Galleri LNM, Oslo 1998 – Unge Inviterte
Galleri F15, Moss 1998 – "Comma"
Trondheim Kunstnersenter, Trondheim 1998 – Trøndelagsutstillingen
Trondheim Kunstmuseum, Trondheim 1997 – Desemberutstillingen
Press/Bibliography
Arild H. Eriksen, Tegning og tekst, 05/06/2020
Tiril Flom, Tegnerforbundet evner å vise bredde gjennom et smalt utgangspunkt, Subjekt.no, 11/06/2020
Lars Elton, Høstutstilling i alvor og håp, Dagsavisen, 06/09/2019
Mona Pahle Bjerke, Recension Høstutstillingen, Nyhetsmorgen, 03/09/2019
Øivind Storm Bjerke "Vennlig, men ikke ufarlig"- Høstutstillingen, Klassekampen 11/09/2019
Live Lundh "Tilbake til det vakre"- Høstutstillingen, Vårt Land 04/09/2019
Oda Victoria Reitan "Det er ikke for sent for Høstutstillingen" Minerva 07/09/2019
Lillian Reif "Hummer, elg, esel og kanari" Høstutstillingen, Kunst 25/09/2019
Maria Johansson "Konstutställning i skörhetens tecken" TTela, 22/09/2018
Susanna Slöör "Omgruppering kring förgängligheten" Om Konst, 10/9/2018
Andrés Stoopendaal "Elegant utställning på Konsthallen i Trollhättan" Göteborgsposten, 9/23/2018
Pontus Johansson "Konst som leker med materialen" Bohusläningen 8/25/2018
Vegard Storbråten Øye "Stiller ut kunst med kritikk og mening" Eidsvoll Ullensaker Blad, 6/09/2018
Ragnhild Fladsrud "Stor kunst og viktige budskap på utstilling" Gjøvik Blad, 3/07/2018
Interview, Foto.no 01/05/2016
Anne Gry Eilertsen "Delikat og rått" Vikebladet Vestposten, 6/11/2016
Tommy Olsson "Når landskapet krakelerer" Klasskampen , 3/16/2016
Public Commissions
Høybråten skole Oslo 2006
Byneset sykehjem Trondheim 2004
Public and private collections
REV Ocean 2019
Trondheim Kommune Trondheim 2004
Teaching
MI Oslo Workshopleder 2002-2003 Illustration
KIB Bergen Foreleser 2002 Kunstlinje
Kunsten som presenteres inkluderer ulike medier som maleri, tegning, foto, skulptur, installasjon, performance, tekstil og glass.
Galleriet er eid og drives av Tonje Buer.